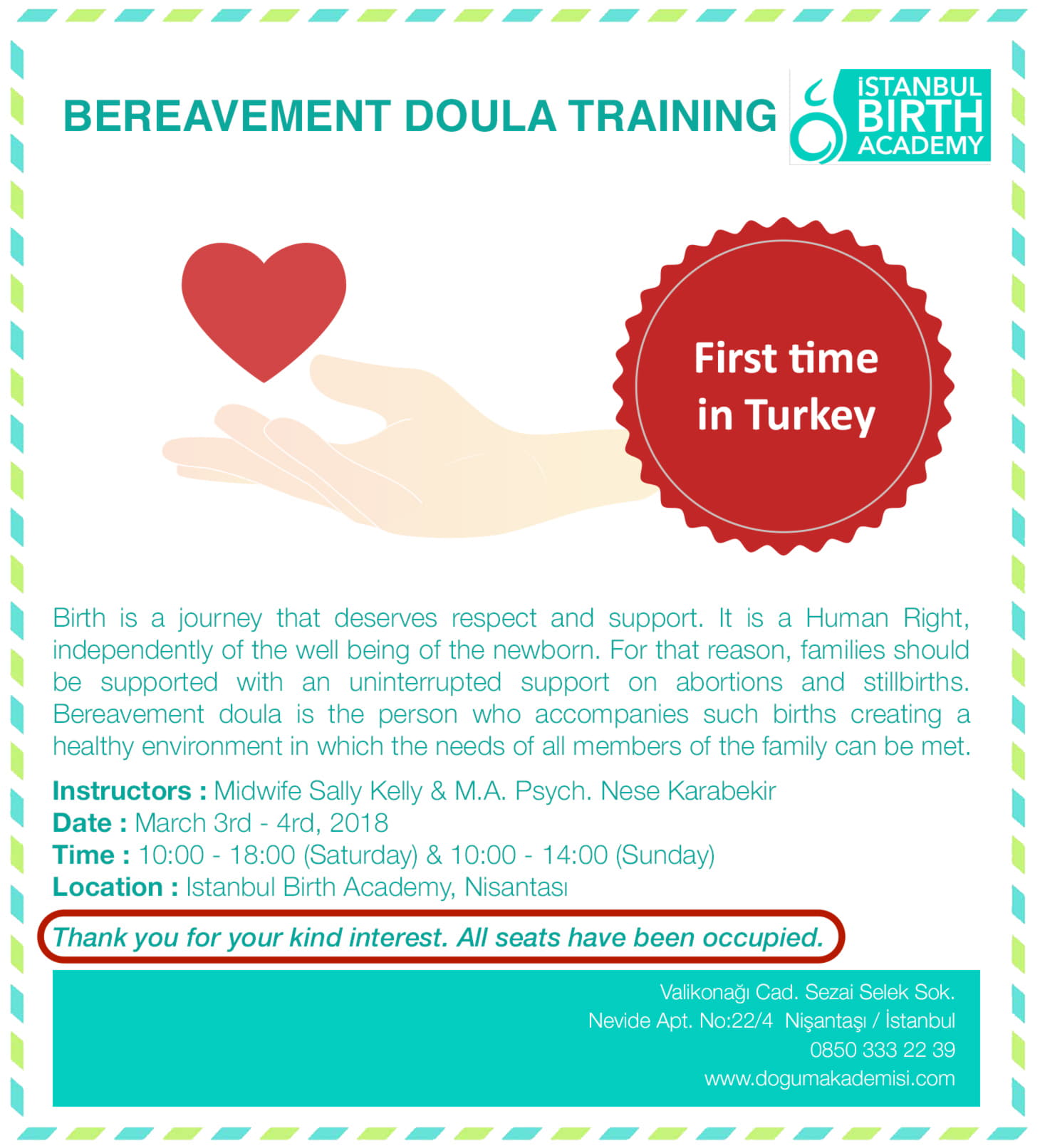 BEREAVEMENT DOULA TRAINING
(Supervision Required)
Birth is a journey that deserves respect and support. It is a Human Right, independently of the well being of the newborn. For that reason, families should be supported with an uninterrupted support on abortions and stillbirths.
In this training, doctors, midwives and birth supporters will experience and learn how to support those families and learn to avoid becoming traumatised themselves.
Bereavement doula is the person who accompanies such births creating a healthy environment in which the needs of all members of the family can be met.
In England, "Bereavement Midwife Sally Kelly" and "M.A. Psych. Nese Karabekir " who have been working on this subject for many years will address the subject both psychologically and physiologically.
This will be the first bereavement doula training in Turkey and please contact bilgi@dogumakademisi.com to reserve your seat.
Who can participate?
Anyone working for birth can attend this tutorial.
All participants will receive a participation certificate.
All professional birth attendants who are trained and receiving internationally recognized and supervised doula trainings are entitled to a Bereavement Doula Certificate after supervision.
Instructors:
Sally Kelly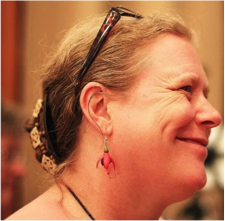 Sally Kelly came to midwifery later in life as a direct entry midwife based in the UK. She maintains her strong belief and trust in the physiological birth process, believing that, in the absence of pathology, birth should be observed—not managed or coerced. She has held on to her vision of birth despite the harsh realities and pressures of working in an organization with a clear business focus. Currently, she works in a large NHS teaching hospital in London as a specialist bereavement midwife. Working with bereaved families is very emotionally charged and definitely a calling, but when it is done well the benefits to families can make a difference in a tragic situation. Although the work she does is demanding, she retains her autonomy and is supported by the Trust.
Sally's passion for normality led her to seek like-minded midwives. She joined the Association of Radical Midwives (ARM), where she served on the steering committee and also as one of the UK representatives for the European Midwives Association (EMA). Her introduction to Midwifery Today was a conference in the beautiful Black Forest village of Bad Wildbad and, the rest is history, as they say.
Outside of midwifery she has a love of photography, singing, reading, eclectic music, animals, dabbling in restoring furniture, and collecting figurines of pregnant women from around the world. She is a mother, grandmother, and midwife.
Neşe Karabekir (Uzm. Psk)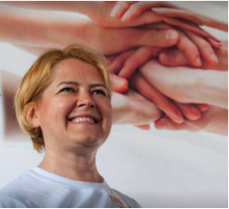 Nese Karabekir, MA in Psych.
Individual and Couple Therapist / Psychodrama Therapist/ Trainer/Practionor (TEP) / Birth Psychotherapist / Lamaze / Active Birth/ Birth with No Regret Certified Childbirth Educator
BA degree from Istanbul University and Psychological Counseling Studies (MA) degree from Keele University -England, Nese Karabekir is a psychodrama therapist and the trainer.
Founder of two academy and one association working for births and psychology; Istanbul Psychodrama Instititue (1996), Istanbul Birth Academy (2010) and Hand-to-Hand for Birth Association (2015) as and NGO.
She is actively working as the main educator of the Istanbul Birth Academy for the childbirth program and professional train the trainer educations. She is also running the presidency role for the NGO she had found.
She is in the practice of individual and group therapy for the last 27 years. Her aim,is to develop birth with no regret teams and train more birth psychologists.
She is a lecturer and speaker in the National and International Congress and Conferences.
Her life is dedicated to births, laboring women and birth supporters.
Instructors : Sally Kelly & Neşe Karabekir
Date: 03-04 March 2018
Time : 10:00 - 18:00 (Saturday) / 10:00-14:00 (Sunday)
Location : İstanbul Birth Academy, Nisantasi, İstanbul